Masters of Science, Licensed Clinical Marriage and Family Therapist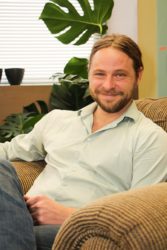 Brandon understands that the decision to begin therapy is a very personal and important one. It is an endeavor into the possibility of change and requires the right atmosphere with someone who can offer helpful perspective and direction. The journey takes courage, and it is important to have someone walking alongside you who is committed to you and responsive to your needs.
Brandon received a Bachelor's of Arts in Human Services from Friends University and a Master's of Science in Family Therapy also from Friends. He has received specialized training in "Lifespan Integration," a technique based in guided imagery to re-organize past issues that may lead to anxiety and depression. Brandon has also had extensive training in trauma assessment and intervention. He specializes in treating trauma issues in couples and individuals – adults as well as adolescents.
Brandon has worked with many children in foster care, and also in juvenile corrections. He has a warm and calming presence, and welcomes the chance to know and encounter many different types of people and situations. Brandon also loves to travel.
Works with:
Individuals and Couples
Adults and Adolescents
Trauma
Anxiety and Depression
Trained in Lifespan Integration
Trained in Hypnotherapy for Trauma and Addictions
Brandon is in-network with the following insurance plans:
Aetna
Amerigroup (Kancare)
Blue Cross Blue Shield
Coventry
MHNet
ProviDrs Care
Sunflower (Kancare)
United (Kancare and Commercial)
Contact Brandon to ask questions or set up an appointment: (316) 425-7774, or fill out our secure contact form.